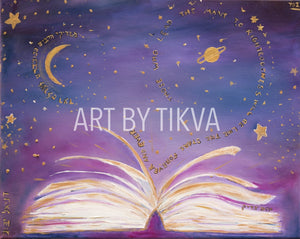 ״...מצדיקי הרבים ככוכבים לעולם ועד״ 
"...Those who lead the many to righteousness will be like the stars forever and ever" (Daniel: 12:3). 
This one is for our Rabbis, our teachers, our educators, our role models, our heroes. 
They are our stars, illuminating our lives for forever. 
 This makes an exquisite thank you gift for any school faculty or educator. 
A giclee print is a high-quality reproduction print on canvas. The original painting was scanned to ensure ultimate quality. Viewers will be kept wondering if it truly is only a replica of the original and not the painting itself. Each stroke and color is vivd. Also, being that it is printed on canvas, the print imitates the texture and feel of the original painting (painted on canvas) to delightful perfection.