"ZAHAV" Original
Mixed media on canvas. Created with layers of resin sand texture, iridescent golds, and gold leaf detail work. 
וזה מעשה המנורה מקשה זהב... מקשה היא כמראה"
אשר הראה ד׳ את משה כן עשה את המנורה״
"The Menorah was fashioned out of a single piece of gold. Everything from its base to its blossoms consisted of a single piece...it was made according to the vision that G-d showed Moses"
פרשת בהעלותך 8:4 
"ZAHAV" Original
About Us
Art By Tikva displays a wide array of Tikva's works, exhibiting a multifaceted range of topics, styles, mediums, sizes, and colors. The artworks are mostly oils on canvas or a large variety of giclee canvas prints of any size. Our services also include charcoals, watercolors, and special commissions upon request.    
Art By Tikva embraces life and energy through artworks which depict symbols of Jewish life and society. Radiating with spirit and liveliness, these works bring joy to the ambience of any wall they adorn. 
Anyone who values upscale art will certainly appreciate a work of art by Tikva.
Brighten your day and browse through!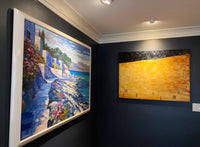 Testimonials
This painting has enhanced and brightened our space and it's such a pleasure to see it hanging over my shabbos candles. It's incredible how a painting can bring so much warmth into our home and hearts. Thank you Tikva! 

Faigy Sankewitz, Jerusalem, Israel 
We have a gorgeous Kotel in our home that reminds us of where our true home is, and where we want to be. Thank you for expressing the sanctity and intensity of this holy place with your artwork!

Yitzy and Tova C., Brooklyn, New York 
Working with Tikva was a dream! She was so professional, kind, patient, and really took of her time to listen to what I had in mind. I love her artistic take on the photograph I sent her... Tikva really went above and beyond all my expectations, and I cannot thank her enough!!!

Leah Ardestani, Crown Heights, Brooklyn
I loved working with Tikva... She was so was thoughtful and informative, and extremely professional throughout the entire process. I was especially impressed with the care she took while shipping this print, to ensure it arrived quickly and in great condition. Tikva went above and beyond when I asked her opinion for getting it framed... I now have a beautiful piece of artwork that enhances the beauty and spirituality of my home. Thank you!

Jinny Peterson, St. George, Utah 
I am so impressed by the quality and the amount of detail the print captures... It gives me the nostalgia for my days in Jerusalem. When I light my Shabbat candles with this painting as my backdrop I feel like I'm in Jerusalem enjoying the sunset and the sacred beauty of the old city. This is a painting that can bring the feeling of home to any wall it is on. Tikva, thank you for blessing the world with your talent. We are inspired by your work.

Sarah and Josh Danoush, Beverly Hills, California
We absolutely love the painting we purchased from Art By Tikva. It's always a pleasure to work with Tikva, and we couldn't be happier with the result. Tikva was very helpful when it came to choosing the correct painting for our space. We look forward to working with Tikva again in the future. 

Eitan and Jasmine Razi, Queens, New York
We absolutely love our new painting from Tikva Sadik! Her genuine and special personality shines through in her art. Our painting has a unique spiritual flair, and we couldn't be happier to have this masterpiece in our home!  

 Jeremy and Penina Epstein, Jerusalem, Israel 
We love love love this safari series! These animals add so much life, color, and vibrancy to my baby's room! He adores this set as well! we couldn't be happier. This makes the perfect nursery decor. Thank you Tikva!

Shlomo and Tehila Potesky, Silver Spring, Maryland
... The quality is phenomenal! I really couldn't tell the difference between the original watercolor and the print. Tikva cares about each and every customer and wants to make sure they get their prints in perfect condition. The love and care is evident in the wrapping of each print. I'm so excited to fill the walls of my home with Tikva originals.

Emunah Rindner, Queens, New York