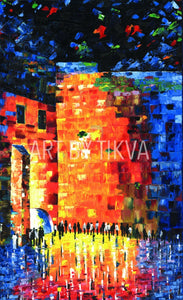 This painting embodies the affection I have for Israel and Am Yisrael (the Jewish nation).
We are alive with COLORS within. Our minds can shout RED, while our hearts may feel BLUE. These sensations are valid, important, and ONLY HUMAN. Bursting with ALL color, "My Kotel" signifies the presence of every soul in the masterpiece of hues we complete. It ensures no prayer will ever go unheard, and validates EVERY emotion.
My first time in Israel holds moments I will always cherish. Israel EMBRACED my COLOR. The people, the country, the air! illuminated my "palette" for forever. This painting was created in Israel throughout my first visit, and is now available as a LIMITED EDITION print.
- Tikva 
A giclee print is a high-quality reproduction print on canvas. The original painting was scanned to ensure ultimate quality. Viewers will be kept wondering if it truly is only a replica of the original and not the painting itself. Each stroke and color is vivd. Also, being that it is printed on canvas, the print imitates the texture and feel of the original painting (painted on canvas) to delightful perfection. 
A semi-original work of art is as close to an original as you can get! Paint, texture, and brushstrokes applied throughout the entire giclee print on canvas create the visual illusion of an original art piece. Add your own custom colors to make it your own and watch the painting come alive before your eyes.